Everything else Jay Buckley
2024 Brochure Available!
Download the brochure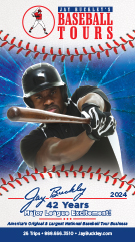 Join our mailing list to be included in future announcements.
Gift Certificates make great gifts!
Find out how to get yours here!
My most recent trip was #11. To say I love Jay Buckley Baseball Tours would be an understatement. My first tour was in 1996 after visiting Jay's booth at the Cubs Convention. Since then, I've been on 34 more tours. What I love most about these tours other than the baseball is the people that I travel with, many have been become great friends. Our last tour I knew 10 or 11 people for prior tours. It's like a baseball family reunion.
If you are considering it, don't hesitate to sign up & go. Matt and Jay's escorts and drivers are top notch. They do everything they can to make sure you have a stress-free vacation. The seats at the game are great, and the hotels are quite nice. You don't have to worry about city traffic, how you will get to your hotel after the game, or worry about what you will do before the game. It's all planned out for you. I can't wait until my next tour.
Laura Jean Nygaard
7/27/2017