la-tr-baseball-2011032702250942
Everything else Jay Buckley
2024 Brochure Available!
Download the brochure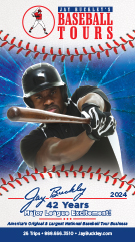 Join our mailing list to be included in future announcements.
Gift Certificates make great gifts!
Find out how to get yours here!

We had such a great time on tour #6! Wonderful way to see a lot of parks and games. The tour guides were awesome and the attention to detail was great. Already planning our next trip!