Everything else Jay Buckley
2024 Brochure Available!
Download the brochure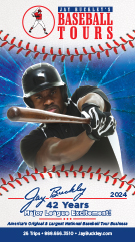 Join our mailing list to be included in future announcements.
Gift Certificates make great gifts!
Find out how to get yours here!
Got back Tuesday from Trip No. 11. Games at Fenway, Yankee Stadium, Camden Yards and Nationals Park before being washed out at Citi Field. (I'm a Cardinals fan so that was a bit of a disappointment). Also included Hall of Fame visit and city tours. Everything was top notch, no complaints as far as the effort put forth by the Jay Buckley people. Will definitely do again, probably hit the West Coast next year. (Four stars is not a denigration, I never give five because that is perfection and you always should be striving to be better. I'd give it 4.75 if I could).
Michael V. Renkes
7/29/2016