Everything else Jay Buckley
2024 Brochure Available!
Download the brochure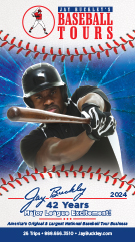 Join our mailing list to be included in future announcements.
Gift Certificates make great gifts!
Find out how to get yours here!
My sister and I just completed trip #3 which ironically is also our third Jay Buckley tour. This trip was our longest to date (8 games). Jon and Mike were amazing guides! They helped make it fun for everyone and this was our best trip yet. I see a few more Jay Buckley trips in our future.
The ease of travel, great seats at each game and the non-baseball stops makes this a 5 star experience. We hit 7 states, 8 ballparks and 9 attractions on this trip.
Claudette Christensen
6/23/2017