micky-mantle-shrine-at-yankee-stadium
Everything else Jay Buckley
2024 Brochure Available!
Download the brochure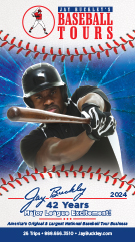 Join our mailing list to be included in future announcements.
Gift Certificates make great gifts!
Find out how to get yours here!

Easy, comfortable travel with first-rate lodgings and ample sightseeing opportunities, when available. And of course, the baseball! Good choice for families. Have done 2 tours and hope to do more!