Bob_Uecker,_Miller_Park,_2014-09-13_03
Everything else Jay Buckley
2024 Brochure Available!
Download the brochure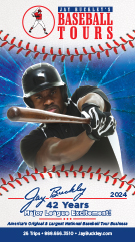 Join our mailing list to be included in future announcements.
Gift Certificates make great gifts!
Find out how to get yours here!
Wow we had a great time on our tour. Five baseball games and Cooperstown and perfect weather. Jay knew the great places to eat and if you followed him you were in the right place! Very professional and always informative. I need to rest now that I am home. My husband already said we should go on another tour in a couple years and I am the baseball fan of the family!
Linda Barnhardt
8/09/2014