Everything else Jay Buckley
2024 Brochure Available!
Download the brochure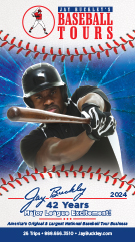 Join our mailing list to be included in future announcements.
Gift Certificates make great gifts!
Find out how to get yours here!
We hit home runs & scored touchdowns on Trip #27! We had a great time on our trip. Mark was an awesome escort! Our fellow travelers were friendly and nice folks. It was our 2nd JBBT and we are already looking forward to our 3rd in 2018!