Everything else Jay Buckley
2024 Brochure Available!
Download the brochure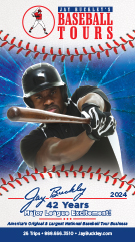 Join our mailing list to be included in future announcements.
Gift Certificates make great gifts!
Find out how to get yours here!
My wife and I absolutely loved our trip last year (11 ballparks, 11 stadiums)!! We are looking at another one this year. Very professionally organized and were surprised at what great seats we usually had. The extra non-baseball experiences were great as well!