Everything else Jay Buckley
2023 brochure available now!
Download the brochure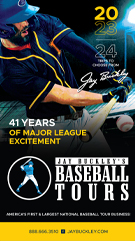 Join our mailing list to be included in future announcements.
Gift Certificates make great gifts!
Find out how to get yours here!

Always knowledgeable escorts, usually a easy going trip, all you have to do is show up on time for the bus. Great sights along the way. Stops every 2-3 hours. You will see so much more than baseball. Sit back, relax & enjoy the ride.
Karen Nordstrom
Karen Nordstrom
7/09/2019