Everything else Jay Buckley
2024 Brochure Available!
Download the brochure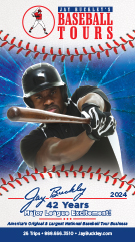 Join our mailing list to be included in future announcements.
Gift Certificates make great gifts!
Find out how to get yours here!

We just returned from tour 23, August 2018. Amazing!!! My husband is the big baseball fan and I'm just a fair-weather fan, but we both had a BLAST!!! Never had to worry about parking or hotels or driving in strange cities!!! Jay or John even led us back to the bus after games, we didn't even have to remember where we parked!! The hotels were very nice and CLEAN. Interesting baseball videos on the bus taught me so many interesting things, but the bus was comfortable enough I could doze through the videos when tired!! Bonus sightseeing tours were amazing, things I will never have the opportunity to see again! The other passengers were such fun too!!! I couldn't have picked a better group of people to tour with! Inexpensive ice water, sodas, beer always available on the bus. This was our trip of a lifetime. Thank you soooo much Jay and John!!
my only note to self: pack lighter next time!!
Joan (and Rich)