Everything else Jay Buckley
2023 brochure available now!
Download the brochure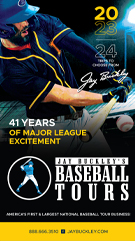 Join our mailing list to be included in future announcements.
Gift Certificates make great gifts!
Find out how to get yours here!

I just got home from the Chicago-St. Louis-KC-Minneapolis-Milwaukee-Chicago tour. I cannot praise Jay Buckley enough! We got thrown a knuckleball when our scheduled hotel in Minnesota got locked down by COVID-19, but they came through and found us a place to stay.
Larry and Fred were exemplary tour guides, entertaining and informative (and more than helpful in getting all the gimpy folks on and off the bus). Bus driver Gary was just as helpful. And I made about 50 new friends.
Five stars all the way around. I'll be a repeat customer