Everything else Jay Buckley
2024 Brochure Available!
Download the brochure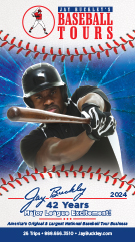 Join our mailing list to be included in future announcements.
Gift Certificates make great gifts!
Find out how to get yours here!
My husband and I have been on two Jay Buckley tours and enjoyed every minute. Highly recommend these tours for fans who want to see great baseball in great ballparks.
June Stuhlreyer
3/07/2016